COMMON QUESTIONS ABOUT BOOT CAMP
How do I sign up now?
Go to the registration page and fill out the registration form. At the end of the registration process, please follow the payment instructions to pay using your VISA, MASTERCARD, DISCOVER, or Paypal account. Once we've received your registration information, you will receive a "Welcome Letter" from us, detailing important information regarding your boot camp success.

I see that a particular camp just started! I just found out about it. Can I still join?
If the camp session is not already full, then absolutely. Many people are so excited about the boot camp program, they want to start right away and not wait for the next camp to begin. This happens often, so chances are you aren't the only one joining at a certain point. If you've already missed a substantial number of days, we can prorate the cost. Just fill out the registration form, and let us know that you want to join the camp already in session. We'll send an email invoice for the appropriate amount.

If you find that the currently offered sessions are already full (which definitely happens), you may have to wait until the next camp begins (usually no more than a few weeks). But don't wait to sign up - you don't want to be left behind again!
What do I need to bring to camp?
You will need to bring one set of 5, 8, 10, or 12 lb. hand weights (depending on your ability), and any type of exercise mat (you can get both of these at any local Target or K-Mart type store). You will also want to bring water to keep yourself hydrated during camp. Optional items are a towel to dry off with and gloves or mittens in the winter. Dress in layers and even if it is chilly don't worry - you will get warm very fast! And always bring a good attitude!
What if I sign up for the three day plan and then want to do more days of the camp?
After starting camp, many women realize how fun and convenient it is so they request to sign up for more days. In addition, they realize that the more days they attend camp the greater the results. In these situations, you will simply be pro-rated from the point you decide to join us for more days.
Will I be sore sometimes?
Most people feel some soreness for the first 2-3 days. After that point, it is slight to moderate. It's part of the process that lets you improve!
What kinds of people go to camp?
They are people just like you. They range in age from 20 something - 65+. Some have never exercised, and some are competitive runners looking to train for the next race. Some have over 100 pounds to lose, and some need to gain weight. Some have had surgeries, injuries or recent multiple births. Some have husbands overseas, some have eating disorders, some have handicap children waiting for them at home. They are a group of women who want something better for themselves. They want results, they want to feel great, they want to reclaim their energy, feel attractive and be the very best they can be. These women are looking to jump start their fitness and get fast results. They are determined and committed and many admit they were scared to sign up and get started, but later were SO glad they did!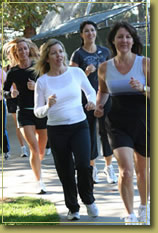 Is there a refund policy?
If you are unable to attend camp due to circumstances out of your control, we can offer you a refund if you notify us prior to your session start date. However we will charge a $50.00 cancellation fee. If we are notified after your session begins, we can only give you a credit towards another boot camp. The credit must be used within 30 days of original sign up. This credit is nontransferable. Credit is not given toward private fitness training. There is no cash refund. This is not negotiable.
What is a typical day like at camp?
That's difficult to say since each day is intentionally different to alleviate boredom. You can expect mat work, some running (1 mile or less), weight training, obstacle courses, and jumping rope each week. On special days, we will go hiking and play sports-related games. It's always an adventure, and you'll always have fun! Wine Country Adventure Boot Camp coaches teach you a great deal about proper form and "core stability."
How soon will I see results?
Performance improvement can take place in as little as three days. You will feel less bloated and more energetic in the first week. "Visual Improvement" can take from two to four weeks depending on your effort level and complimenting your workouts with improved healthy eating, consistent great night's sleep, and nutritional supplements. It's becoming common to see a camper go down 1-2 dress sizes within the first camp. Remember, everyone is different!
Do you have a nutrition plan that you recommend?
Yes, please visit our Nutrition page to learn about our partners, who provide some very valuable services in this extremely important area.
What will I do after camp is over?
We hope you will sign up again for the next camp! Many (up to 80%) of the campers enjoy the program so much, they never leave.